Loved one: Its been tough feeling this horrible, dealing with doctors, missing work, but it's nothing compared to what you've been through or go through everyday.
Me: They aren't the same thing. My normal is different than yours is. It doesn't and shouldn't minimize what you're going through. I'm still here for you, even if just to listen.
Loved one: No, I know…I just don't know how you deal with feeling like this all the time. 
There's a funny thing that happens when you're diagnosed with an incurable, possibly life threatening, beast of a disease – no matter what ailments affect other people they will inevitably compare their struggles to ours, and more often than not, feel like they don't have a right to complain to us. I know the above conversation or some version of it always comes from a good place. I know my loved ones would never minimize how difficult my everyday is. 
But we're not talking about me. We're talking about you.
I get it, being dealt a bad hand with you or your loved ones health is head spinning. Suddenly there are doctors with different opinions, a foreign language with long terminology, appointments, check ups and tests. There is pain, the emotional sometimes feeling more raw than the physical challenges. It will change your current lifestyle and for some even require permanent changes. Nothing makes you feel more vulnerable than failing health. 
Having dealt with medical practitioners for years has certainly given myself and even my husband a level of expertise we wish we didn't possess. We're not regularly vocal about my health but we also don't hide that I have neuromyelitis optica (NMO). Friends, family, even co-workers and clients will seek us out for advice when they encounter the medical 'system'. They know we've put in our time and are continuous learners and they need to ramp up their knowledge now.
I try to avoid using language like, "well I did this" and never use language like, "it's not as tough as this". I will always ask how their body feels but also what they are thinking about, no matter how irrational it might sound. I am grateful to hear them out because many did and still do for me. I let them know I am always hear to listen because their loved ones will also need time to process a new reality.
I am relatable for all the wrong reasons. Perhaps their health challenge is only temporary like a surgery with a recovery period or it is unfortunately a forever deal. Regardless, their today isn't great and I want to support them like others have for me. 
Photo credit: Evan Kirby
Here is a short blog about me recently watching the Burnt. 
I am, and have always been, pretty independent. Even after I was diagnosed with Neuromyelitis Optica/NMO, I drove to my doctor's appointments and outpatient treatments alone. Then I began losing my vision because of the NMO, and I continued to live by myself, learned to prepare food and pay bills and do laundry all on my own.
And then I met John, now my husband. He respects my need for independence, but I've since learned it's nice to sometimes count on others, too. Whether it's reading an expiration date on an item in the pantry, discerning between the shampoo and shower gel in a hotel bathroom, or navigating the New York City streets or the grocery store aisles, it's easier to ask John than to figure it out on my own.
NMO and vision loss have taught me that it's okay to ask for support. I've learned that most people are willing to assist, and that if you express gratitude, they're even happier to help.
For that, I value my husband, and I want to dedicate this week's post, in honor of Valentine's Day, to all our caregivers, from parents to siblings to spouses to friends. Without you, we'd still survive, but with you, we're much happier doing so. Thank you for making our lives with NMO that much more bearable.
As I am gearing up for the next few weeks it's going to be very busy time. First I would like to wish everyone a Happy Thanksgiving! We are traveling to Kansas to see my husband's family this year for 4 days. This time of the year just seems like chaos for everyone till after New Year's. As NMO patients this can be challenging for us trying to keep up with everything and trying to take of ourselves. I know for me this time of year is very exhausting and for that I need to thank Starbucks since I will be visiting them everyday till after New Year's.  Once we get back from Kansas I will be decorating the house for Christmas. I am one of those weird people that put up four Christmas trees because I love Christmas trees! Also it's that time of the year for Elf on the Shelf to appear and this year we are having another elf joining our elf Buddy I love doing elf on the shelf even though I stress about it too much some times. The look on Allen's face is just worth it every morning when he is looking for Buddy. The following weekend we are staying downtown for one night and will be watching the Christmas lights parade. Then it will be my 35th birthday which I am absolutely dreading to me that means I am 5 years closer to being 40. I think I will have a hard time with that one well I know I will. I recently watched that movie "This is 40." Yes I will be like her and will be celebrating my 38th birthday for several years. Four days after my birthday I will be doing my Rituxan which we all know that's a party in its self. Which means I will not be feeling well for a couple weeks. The next thing on my schedule is my husband's company Christmas party. Which means Eric and I will be wrapping about twenty gifts for the Christmas party gift raffle. Also squeezing in wrapping all the gifts for the kids and family members. I am hoping I will have time to do Christmas cookies with the kids. Started this tradition with Allen ever since he was a baby. Alana was not into it last year but I think this year she will be more into it. Well at least eating the frosting out of the bowl when I am not looking. Then before I know it will be Christmas. We are staying home this year for Christmas so the kids can enjoy playing with their toys.
Even though it will be a hectic time of the year, I am very thankful for the many blessing in my life such as my family. I think we all can to relate to that when it's the holiday time we forget what matters the most sometimes.
POSTED IN
Everyday life, Family, Jet-setting, Just for fun, Medication, NMO, Real Life Hurdles, Rock star!, self-care, Travel, Treatment, Uncategorized
Two weeks ago I had an Appointment with Dr. Michael Levy at John Hopkins. Since Eric and I were traveling all the way from Colorado we decided to Make a long weekend trip and see some of the Monuments in Washington D.C. It was my first time to the east coast and it has been over 10 years since Eric was there. We decided it would be best to leave the kids at home and enjoy a couple's getaway.
Our flight left late Wednesday night and we flew into Dulles we arrived at 11:30 p.m. Time we got the rental car and drove to the hotel which was in Old town Alexandria in Virginia. It was 1:00 a.m. so we were exhausted. Thursday morning we slept in little and woke up and explored Old town for a while and had breakfast before heading into D.C. We decided to take the metro train into D.C so we didn't have to worry about parking and traffic. We got off the train at the National Archives and walked through the National Mall heading to the Washington Monument. I couldn't believe all the museums at the National Mall. You could spend weeks going through all the Smithsonian Malls and other museums. As we approached the Washington Memorial it was just incredible how tall it was and all the different people from around the world was just staring up to the top of it.
Next we walked down to the World War II monument that was very beautiful to see and peaceful. As we headed to the Lincoln memorial we walked right along the reflecting pool. Which is way bigger in person then what you see on TV. When we were at the bottom of the Lincoln memorial I was thinking how am I going to climb all these steps since my NMO Symptoms are starting to hurt from walking so much? I have been walking a ton and I didn't want to burn myself out since we still want to go see the Vietnam Wall and the White House. When I slowly climbed the stairs to the Lincoln monument and reached the top it was just gorgeous to see! It was remarkable to see how big it is and seeing it on T.V is just not the same. The Lincoln memorial was my favorite memorial to see by far. Once we were done looking at it and reading all the stuff from Lincoln we sat on top of the steps and people watched. I just could not get over how many foreigners where there looking at our American History. The sad part that there were not very many Americans there looking at our history. I had to rest for little bit before we started to walk down all the steps.
The next memorial we looked at was the Vietnam wall that was very humbling to see. Just seeing all the names and all the flowers and gifts people leave there at the wall. After that we caught a cab to head over to the White house since I was getting worn down. It was kind of crazy getting out of the cab and having to walk to get close to the White House. Since you can longer drive on the street in front of the white house and the back of the white house. The have barricades up so you can't even get close to the fence that surrounds the house. The secret Service guys are very on point and can be a little rude and kind of jumpy with people. We simply just walked all around the White house then I had to take a rest on the Southside of the lawn. So we could walk even more to get back to the train station and head back to Old Town. When we arrived back to Old Town we ate at a great Oyster bar called Hank's Oyster's I highly recommend checking it out if you are ever in that area. By time dinner was over we were wiped out and ready for bed since we had a 45-minute drive to Johns Hopkins in the morning and I needed to be there at 9:30 a.m.
Friday morning bright and early with a Starbucks in my hand we headed off to Baltimore to John Hopkins to see Dr. Levy. Eric was worried that traffic would be very bad and would take awhile to get there. We made good timing arriving at 9:00a.m. I have always enjoyed Dr.Levy I have seen and listen to him speak at Guthy Jackson Patient Day for seven years. I have always wanted to fly out and go see him and I was thrilled I got that opportunity, Dr. Levy and I spent a over an hour going through my NMO history and what issues I would like to address. He would like to switch some medications around and do some blood tests and follow up in a few weeks. Since I have been diagnosed for 8 years there was a lot of information that needs to be talked about. Plus he wants to look at my MRI's when I was first diagnosed to my latest MRI'S to see how my lesions are doing.
After leaving the Hospital we drove around Baltimore a little bit then we went to a crab place that had really good reviews for crab. Eric wanted crabs right out of the bucket. Like when he lived in Virginia Beach. So that was a nice lunch. We decided to take a scenic route back to D.C I wanted to check out Georgetown. LOL it seemed like a good idea but it kind of a pain but we made it to Georgetown the next tricky part was finding parking. It took us awhile but Eric got it done. I wanted to go shopping and stop at my favorite cupcake store Sprinkles! If anyone really knows me I am very addictive to these cupcakes. If I am visiting a city and they have Sprinkle store I will be most defiantly will be stopping by and buying cupcakes. After shopping for a while we headed back to the hotel and rested for a bit and went to a late dinner at a fabulous Southern food restaurant called Hen's Quarters. It was the best-fried chicken I have had in a long time. We took a nice stroll down King Street after dinner and headed back to hotel cause we were pretty beat.
Saturday was a very special day we decided to spend the day at Arlington Cemetery. I wanted to see the tomb of the unknown solider and the changing of the guard. But also were the Kennedy's are buried. Also I wanted to spend our last day at a place that was not going to be too crowded with people and was going to be not so noisy and just spend a quite day getting ready to go back to reality. I loved watching the changing of the guard and over all seeing the cemetery and seeing where JFK is buried. We spent about 4 hours walking around the cemetery. We headed back to hotel around 3 and went to a local bar and had a few drinks and went shopping a little bit then off to Hank Oyster Bar again because they had the best crab cake we found during our vacation. We enjoyed our last romantic dinner. Since we had an early flight on Sunday Morning.
Now that I am back home I am still waiting to hear back about the blood tests and on Friday I have an Appointment with my neurologist about what Dr.Levy said and the new medications I Need to try. So I will keep you all posted!
POSTED IN
Clinical Trials, Education, Everyday life, Family, Food, Jet-setting, Medication, NMO, Research, self-care, Self-improvement, The body shop, Travel, Treatment
Happy autumn everyone! Here in Canada, we're on the last day of our Thanksgiving weekend. Mine started out Friday morning with an early morning field trip to the University of British Columbia's Museum of Anthropology (MOA). Visiting this particular museum has been on my life list for ages and I finally had the opportunity to see it thanks to an amazing local group I belong to called Creative Mornings Vancouver. This month, they arranged for members to attend one of two tours before the museum opened for the day. One was about the tools the MOA uses to preserve and treat the pieces in their collection and the other was learning about the stories behind some of the pieces that were created to provoke social change. The day began with a lovely breakfast of pastries and tea and coffee and after the guided tours, we were able to enjoy the rest of the museum at our leisure.
MOA is home to an impressive collection of Canada's First Nations' art, but also exhibits indigenous art from other parts of the world. The size and diversity of what's on display is almost too much to take in in a single visit. My favourite part of the museum is the great hall. The totems and other large scale pieces housed there are incredible. The outer wall of the hall is floor to ceiling glass, giving the illusion of being outdoors. The natural light in the hall really shows off the beauty of the wood and the colours used in the totems. It's been 3 days since I was there and I am STILL absorbing everything I saw. As an artist, it was incredibly inspiring.
Sunday, we had friends and family over for turkey dinner. I always do our Thanksgiving on the Sunday so Monday we can coast on leftovers and relax before everyone has to go back to work. I was a bit apprehensive about hosting the dinner this year because I have really been struggling with my heath and especially with pain from RA. I don't know what I was worried about though-every time I asked someone for help with something, they were great about jumping in. My son set the table, my best friend carved the bird, my husband and son took care of all the dishes afterwards (we don't have a dishwasher) and somehow managed to get all the leftovers to fit in our fridge. (It's like Tetris in there, but hey, whatever works!)
Today, I am relaxing and feeling grateful for such a great weekend. It's good to be reminded that there is beauty in the world and to be surrounded by the people I adore.
Happy Thanksgiving to my fellow Canadians! I hope your weekend was full of good memories, great food and time with those you love.
I find peace in my life by being present in every moment and working towards a better mindful meditation practice. That's how I thoroughly enjoyed my summer vacation.
This year my family and I travelled to Los Angeles with a stop over in San Francisco before returning home to Toronto. Not one to want to waste a moment (and to constantly entertain a 4 year old) I jam packed our schedule in an attempt to see as much as possible.
We started with 2 nights in Anaheim at Disneyland. A smaller property than Disney World in Florida, there a lot of the same rides. My body fatigue has really affected me lately but with good planning (so you're not running from one side of the park to the other), and a nap midday, it's possible to see the best parts including the night time parade and fireworks.
We headed into Los Angeles and visited their farmers market, The Grove, and the pedestrian shopping district. I thought it might also be fun to rent a powerboat and cruise the coastline. After an hour of choppy water (yup, we were sea sick) we opted to stay inland and enjoy some marina cruising. We visited the beaches including Venice Beach with their famous Muscle Beach attraction. I admittedly felt unsafe there because as a tourist trap every street performer, vendor and homeless person wanted our money, and asked in an aggressive manner. And we took in the natural phenomenon of the La Brea Tar Pits, which is as it sounds; natural tar that has risen to the surface and trapped fossils dating back hundreds of years.
We finished our trip in LA at the Santa Monica Pier. On a bright, sunny day we peacefully strolled through the park, just enjoying each other's company and being grateful for moments like those. I will say that the pier is not a smooth walk. With our small travel stroller, Sophie complained the ride was bumpy and the wheels occasionally got stuck in a ridge or groove. I might not recommend the entire pier to those in a wheelchair. You can still enjoy the view from the adjacent park.
I booked San Francisco thinking I'd love to explore the city but hadn't done my homework to know it's quite an expensive city. Accommodations, even modest ones, can run several hundred per night. Don't think about renting a car and parking; Even with Uber from one destination to another it is much cheaper. San Francisco has their famous Fisherman's Wharf. A real fan of seafood and meats (protein is your friend when on a Paleo diet) I ate the largest crab in my life, cooked before me on the pier. We also spent a day visiting the Alcatraz Prison Island. I hate audio tours but this was fantastic. Wheelchair accessible with elevators on the island and the ferries, it is a sight for all to enjoy. There is a bit of walking but take breaks because you can leave on any ferry when you're ready. Be warned about the city in general though – it's much colder then you'd imagine and the streets are so steep cars ride their brakes often.
I've always thought of myself as a beach bum or an adventure seeker but never as a city explorer until this trip. If you decide the west coast is somewhere you might want to visit, both cities and their people have so much to offer.
I imagine I'm probably one of the worst patients to treat. I fully understand the advice I receive but I'm horrible at following them. We've all been told it; Stress can really affect how we handle existing and future problems arising from having neuromyelitis optica (NMO) and admittedly, I'm in the habit of taking on quite a lot.
I love to work hard and I work to live well. The type who suffers from wanderlust, adventure and trying new things, I generally only operate at hyper speed. A couple of months ago I knew I was at yet another crossroad. Where previously I could manage daytime fatigue, the burning sensation and general pain, my body had started to feel sluggish, unresponsive and exhausted. I tried to sleep it off, eat well and rest but I couldn't bounce back. I recently blogged about a flare as a result but still couldn't feel better.  (more…)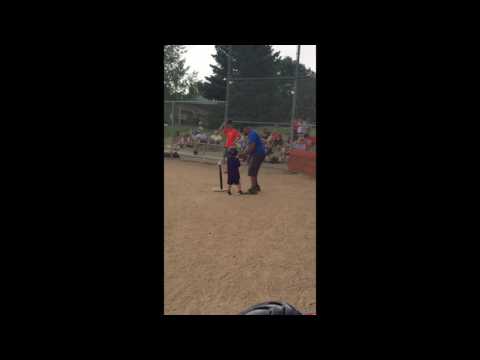 This year marked my 1st year being a sports mom. Allen started Tball in April and finished playing the end of June. We signed him up to play Tball for a few reasons one main reason was so he could play with other kids and second was his best friend from school was also playing Tball. I was nervous about not knowing if he really would enjoy playing and of coarse his attention span. For this being his first year he did a pretty good job. Allen really enjoyed hitting the ball but that's about it. When he was suppose to play in outfield he would just sit there and play in the dirt. It took him a little while to learn the base patterns but for 4 years old he did a pretty good job! He was Happy T ball was over the end of June since it started to get hot and some of the games he played was almost 100 degrees. The most important thing out of this is that Allen had fun and he met new friends. Hope you all enjoy the photos and the video of him playing. The lesson I learned out of being a sports parent that I wanted to be one of the parents that helps with the team and get to know the kids that are playing on the same team as my son. The other lesson was learning to juggle everything on Saturday for games that were right in the middle of the day.