Here is a short blog about me recently watching the Burnt. 
We all know back pain but for neuromyelitis optica (NMO) patients most of us know it that much more. Ever since my transverse myelitis (TM) attack in 2009 I've known serious back pain to be part of my every day existence.
I recently threw out my back with an awkward twist. There was a small pop noise and a shot of pain and then it subsided to something manageable, or at least I thought. Over 2 weeks I took it easy and figured with a little rest it would recover back to my normal. But it didn't happen and after a few more weeks where it really affected my every day tasks like cooking in the kitchen, sitting at my desk or even walking, I had to ask for help.
I'm currently undergoing physiotherapy treatments for a serious case of sciatica nerve pain and a rotated hip but what else I learned about my body shocked me.
In this first x-ray image we found not one but two fused sections of vertebraes in my neck, a genetic defect that unfortunately nothing can be done. But it certainly helps explain my forward head and poor posture, which trickles down to lower back pain to compensate the weight of the head.
In the second image it's very clear I suffer from scoliosis. There are two types: acquired (from poor habits that can be improved) and genetic (that nothing can be done and that's evident if the scoliosis is found in the lower spine as well). As it turns out I'm just lazy so I'm needing to re-train myself on how to sit properly and I'll be taught how to undue my acquired scoliosis. 
In the third image we see my hip rotated (it's smaller than the other, which is how we can see it isn't sitting correctly), but we also discovered poor spacing between my vertebraes. The gaps between vertebraes should increase the further we go down the back but mine does the opposite. The disc that cushion impacts have also diminished. No one knows why my spine looks like this but at 35 years of age it could be anything from major impact falls, pre-arthritis, poor bone density or in my case repetitive high dose steroids that have deteriorated the quality of my spine. Oh, and it could have something to do with those awkward lesions left over from the TM attack.
As part of the treatment I'm seeing a chiropractor, physiotherapist, athlete specialists, massage therapy, and eventually kinesiology all working with the same clinic, Rosedale Wellness. I've been blessed with this incredible team of professionals who are taking a holistic approach to my recover but more importantly my long term sustainable spine health. It hasn't been easy though. The treatments leave me dazed because my body isn't familiar with the new posture setting. The sciatica hip pain is relieved temporarily but as I return to life it slowly returns. And the time commitment to good health is something I've had to decide I will stick with until the team feels I have enough tools and recovery; As a mom and entrepreneur I've had to off shift my responsibilities and that's resulted in late nights as my new norm. 
For NMO patients who think back pain is something that just comes with the package I recommend speaking to qualified specialists because it might not be the case for you, just like it is starting to be for me.
Two weeks ago I had an Appointment with Dr. Michael Levy at John Hopkins. Since Eric and I were traveling all the way from Colorado we decided to Make a long weekend trip and see some of the Monuments in Washington D.C. It was my first time to the east coast and it has been over 10 years since Eric was there. We decided it would be best to leave the kids at home and enjoy a couple's getaway.
Our flight left late Wednesday night and we flew into Dulles we arrived at 11:30 p.m. Time we got the rental car and drove to the hotel which was in Old town Alexandria in Virginia. It was 1:00 a.m. so we were exhausted. Thursday morning we slept in little and woke up and explored Old town for a while and had breakfast before heading into D.C. We decided to take the metro train into D.C so we didn't have to worry about parking and traffic. We got off the train at the National Archives and walked through the National Mall heading to the Washington Monument. I couldn't believe all the museums at the National Mall. You could spend weeks going through all the Smithsonian Malls and other museums. As we approached the Washington Memorial it was just incredible how tall it was and all the different people from around the world was just staring up to the top of it.
Next we walked down to the World War II monument that was very beautiful to see and peaceful. As we headed to the Lincoln memorial we walked right along the reflecting pool. Which is way bigger in person then what you see on TV. When we were at the bottom of the Lincoln memorial I was thinking how am I going to climb all these steps since my NMO Symptoms are starting to hurt from walking so much? I have been walking a ton and I didn't want to burn myself out since we still want to go see the Vietnam Wall and the White House. When I slowly climbed the stairs to the Lincoln monument and reached the top it was just gorgeous to see! It was remarkable to see how big it is and seeing it on T.V is just not the same. The Lincoln memorial was my favorite memorial to see by far. Once we were done looking at it and reading all the stuff from Lincoln we sat on top of the steps and people watched. I just could not get over how many foreigners where there looking at our American History. The sad part that there were not very many Americans there looking at our history. I had to rest for little bit before we started to walk down all the steps.
The next memorial we looked at was the Vietnam wall that was very humbling to see. Just seeing all the names and all the flowers and gifts people leave there at the wall. After that we caught a cab to head over to the White house since I was getting worn down. It was kind of crazy getting out of the cab and having to walk to get close to the White House. Since you can longer drive on the street in front of the white house and the back of the white house. The have barricades up so you can't even get close to the fence that surrounds the house. The secret Service guys are very on point and can be a little rude and kind of jumpy with people. We simply just walked all around the White house then I had to take a rest on the Southside of the lawn. So we could walk even more to get back to the train station and head back to Old Town. When we arrived back to Old Town we ate at a great Oyster bar called Hank's Oyster's I highly recommend checking it out if you are ever in that area. By time dinner was over we were wiped out and ready for bed since we had a 45-minute drive to Johns Hopkins in the morning and I needed to be there at 9:30 a.m.
Friday morning bright and early with a Starbucks in my hand we headed off to Baltimore to John Hopkins to see Dr. Levy. Eric was worried that traffic would be very bad and would take awhile to get there. We made good timing arriving at 9:00a.m. I have always enjoyed Dr.Levy I have seen and listen to him speak at Guthy Jackson Patient Day for seven years. I have always wanted to fly out and go see him and I was thrilled I got that opportunity, Dr. Levy and I spent a over an hour going through my NMO history and what issues I would like to address. He would like to switch some medications around and do some blood tests and follow up in a few weeks. Since I have been diagnosed for 8 years there was a lot of information that needs to be talked about. Plus he wants to look at my MRI's when I was first diagnosed to my latest MRI'S to see how my lesions are doing.
After leaving the Hospital we drove around Baltimore a little bit then we went to a crab place that had really good reviews for crab. Eric wanted crabs right out of the bucket. Like when he lived in Virginia Beach. So that was a nice lunch. We decided to take a scenic route back to D.C I wanted to check out Georgetown. LOL it seemed like a good idea but it kind of a pain but we made it to Georgetown the next tricky part was finding parking. It took us awhile but Eric got it done. I wanted to go shopping and stop at my favorite cupcake store Sprinkles! If anyone really knows me I am very addictive to these cupcakes. If I am visiting a city and they have Sprinkle store I will be most defiantly will be stopping by and buying cupcakes. After shopping for a while we headed back to the hotel and rested for a bit and went to a late dinner at a fabulous Southern food restaurant called Hen's Quarters. It was the best-fried chicken I have had in a long time. We took a nice stroll down King Street after dinner and headed back to hotel cause we were pretty beat.
Saturday was a very special day we decided to spend the day at Arlington Cemetery. I wanted to see the tomb of the unknown solider and the changing of the guard. But also were the Kennedy's are buried. Also I wanted to spend our last day at a place that was not going to be too crowded with people and was going to be not so noisy and just spend a quite day getting ready to go back to reality. I loved watching the changing of the guard and over all seeing the cemetery and seeing where JFK is buried. We spent about 4 hours walking around the cemetery. We headed back to hotel around 3 and went to a local bar and had a few drinks and went shopping a little bit then off to Hank Oyster Bar again because they had the best crab cake we found during our vacation. We enjoyed our last romantic dinner. Since we had an early flight on Sunday Morning.
Now that I am back home I am still waiting to hear back about the blood tests and on Friday I have an Appointment with my neurologist about what Dr.Levy said and the new medications I Need to try. So I will keep you all posted!
POSTED IN
Clinical Trials, Education, Everyday life, Family, Food, Jet-setting, Medication, NMO, Research, self-care, Self-improvement, The body shop, Travel, Treatment
Throughout my NMO journey I've tried to keep an open mind towards alternative medicines. I've had great success with naturopathic care, acupuncture and osteopathy so when many of my trusted friends suggested cannabis, or medicinal marijuana, I thought it worthwhile to look into it. Cannabis has a bad reputation; Many people think marijuana is for a bunch of hippies getting high and eating Cheetos. Others think getting a marijuana prescription is just for those making up mild conditions who want to get high. Whilst both might be true in our world there are some fantastic testimonials from real patients.
I'm not the type to role a joint and get high but throughout my research I discovered CBD oil, or Cannabidiol, which can be consumed with a few drops on food, in drinks or straight under the tongue.  You can even diffuse CBD oil but others in the room will also feel the effects. There are many strains that have low or no THC levels, which is the component that gives the feeling of being high. I was transparent with my family doctor that medicinal marijuana was something I was considering. He was honest that he didn't have extensive experience nor could he prescribe it but he did refer me to a reputable clinic that did.
I'm fortunate that a close friend happens to be a key sales rep for one of the major distributors of medicinal marijuana products in North America. He spent a lot of time understanding my symptoms and suggesting the best CBD oil products. Here are my take-aways of CBD oil:
It still stinks. If you dislike the skunky smell of marijuana you still won't like the oil.
Marijuana strains are very different and have names like Indica, Sativa or Hybrid. ie. Some help with insomnia, pain management, fatigue and/or several different combinations.
Each production changes so although manufacturers try to keep the potency levels as close to the last run it's never exact. Remember, marijuana is a plant.
Because of production changes, prescriptions suggest amounts but the patient will need to dose up or down for each new bottle.
I tried CBD oil for several days and I've made the decision it isn't for me. I dosed up and then more (and then more) and could never get the same relieve prescription medication provides me. I struggled with the taste (it was not that noticeable but did have an aftertaste) and after a certain amount I did feel somewhat paranoid. The one positive about CBD oil was that it helped with my insomnia but my other needs were not met. I felt frustrated trying to convert the prescribed grams into millilitres and then into how many drops that translated into.
I think there's a place for medicinal marijuana but we're still in the infancy stage. Doctors don't have enough historical data to understand how the drug might best help different diseases. I can certainly see how marijuana might one day be part of the treatment plan for NMO patients and I know many who already do. The marijuana drug industry is regulated (and legal in many countries and states) but it's tough for governments to monitor it. Uneducated patients may purchase from small retailers instead of one of the larger manufacturers direct and might purchase marijuana that is unsafe (ie. With pesticides or cross contamination). If you do decide that medicinal marijuana is something you want to try spend the time researching and choose a reputable clinic, doctors and distributors.
I imagine I'm probably one of the worst patients to treat. I fully understand the advice I receive but I'm horrible at following them. We've all been told it; Stress can really affect how we handle existing and future problems arising from having neuromyelitis optica (NMO) and admittedly, I'm in the habit of taking on quite a lot.
I love to work hard and I work to live well. The type who suffers from wanderlust, adventure and trying new things, I generally only operate at hyper speed. A couple of months ago I knew I was at yet another crossroad. Where previously I could manage daytime fatigue, the burning sensation and general pain, my body had started to feel sluggish, unresponsive and exhausted. I tried to sleep it off, eat well and rest but I couldn't bounce back. I recently blogged about a flare as a result but still couldn't feel better.  (more…)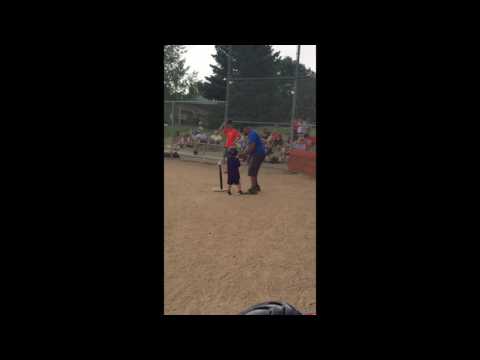 This year marked my 1st year being a sports mom. Allen started Tball in April and finished playing the end of June. We signed him up to play Tball for a few reasons one main reason was so he could play with other kids and second was his best friend from school was also playing Tball. I was nervous about not knowing if he really would enjoy playing and of coarse his attention span. For this being his first year he did a pretty good job. Allen really enjoyed hitting the ball but that's about it. When he was suppose to play in outfield he would just sit there and play in the dirt. It took him a little while to learn the base patterns but for 4 years old he did a pretty good job! He was Happy T ball was over the end of June since it started to get hot and some of the games he played was almost 100 degrees. The most important thing out of this is that Allen had fun and he met new friends. Hope you all enjoy the photos and the video of him playing. The lesson I learned out of being a sports parent that I wanted to be one of the parents that helps with the team and get to know the kids that are playing on the same team as my son. The other lesson was learning to juggle everything on Saturday for games that were right in the middle of the day.
I know it's a gripe that I share with most NMO patients – having to swallow a lot of pills several times a day. I organize my medication in a daily pill organizer. Because it has become part of my daily rituals, I find myself often second guessing if I even took them today. Being able to check my pill organizer answers that question.
June 23rd marks my 8th year being diagnosed with NMO. It's a bitter sweet day to reflect on as I remember how much my life changed within a week. I remember so clearly; I was working at my family's hotel in Frisco and I was riding the elevator down to the lobby when all of a sudden I couldn't control my left arm. I walked into my husband's office since he was the general manager. He looked at me and asked what the heck is wrong with me and to stop waving my arm around. I said something is not right and I need to get to the hospital. Within hours I was diagnosed with Transverse Myelitis, which they thought would likely be my only attack. They suggested that I should be fine after my 5 days of steroids in the hospital.
Almost 1 month later I had another attack where this time my whole body started shaking uncontrollably and I started to go paralyzed on my left side. This time we drove down to Denver and I was admitted to the hospital for 5 days again for IV steroids. They did another MRI and they changed my diagnoses to relapsing remitting MS. I didn't know what to think when they told me I had MS but I focused on finding a neurologist to start MS medication right away. What a whirl wind experience I had to find a doctor and to start educating myself about MS and all the different medications I had to take. At one point I was taking 15 different pills, which did not include my MS medication that I had to inject into myself everyday.
In August again 1 month after my second attack I started to go blind in my left eye and the doctors did not understand why I was having such horrible attacks since I was on MS medication. My neurologist was second guessing I had MS so I was admitted again to the hospital for 5 days of IV steroids. My doctor recommended I go to the Mayo Clinic and get a second opinion as he thought I had Neuromyelitis Optica. When my doctor told me that I might have NMO he looked at Eric and I and said I would have a better chance winning of the powerball then being diagnosed with NMO. Well within a month I went to the Mayo Clinic and the doctor there agreed I had NMO. Now my life was going to change even more they originally told me. I needed to start taking Rituxan right away and the doctors could not guarantee I would get my vision back in my left eye.
Looking back all I went through and how much my life changed after being diagnosed with NMO it's been bitter sweet. At one point through my journey I thought I would never be able to have kids and I would never see out of my left eye and I would never recover being paralyzed on my left side. I beat all those things; I have two adorable children, my left eye I can see out of, and for my left side it's just more weaker then my right. I am very thankful I have seen some wonderful doctors that helped my dream of having kids come true. I have also met some incredible people because of having NMO and I wouldn't have met them if it wasn't for NMO.
Guthy Jackson NMO Patient day is always a special day for me. It's the one-day a year I get to connect with my NMO family. This year marked my 5th time attending this special day, this year I brought my mom. I wanted her to meet my NMO family and some of the doctors that I have talked with. Every year at Patient day Ms. Jackson does a fabulous job putting on this event for patients. It is such a great opportunity for patients to connect with each other and talk to some of the top NMO doctors. It is so nice to talk to another person that has NMO and talk about what you are feeling and they completely understand. This event is so special Ms. Jackson has doctors all over the world to come talk to us patients about whatever questions we might have. Also patients get to find out what's happening new in the medical world of NMO.
The big topic this year was researchers talking to us patients about trying medical trials for new drugs for NMO. It was very interesting and there were some good points made about this topic. If you are interested to learn more about the clinical trials please visit the Guthy Jackson website there are some great resources there. The also had several breakout sessions this year from asking the Docs, nutrition, mediation, navigating insurance, managing pain and simplifying the science of NMO. It is a day where you can learn as much as you can about having NMO or being a caregiver for a NMO patient.
The other big thing is donating the blood to the Circles program that hopefully helps a cure for NMO. I strongly encourage you to do this if you are a NMO patient and your family. We all have a piece in this very large puzzle and we need to work together to help find the cure.
When the conference is all over with the patients gather around and have dinner and just talk to each other and have a good time. We are all like one big family and we really enjoy spending time with each other and like I said this is a one-day thing we get to bond like this. Its hard to say goodbye at the end of the night to each other. But we know in 364 more days we will be reunited together again.
http://guthyjacksonfoundation.org