Loved one: Its been tough feeling this horrible, dealing with doctors, missing work, but it's nothing compared to what you've been through or go through everyday.
Me: They aren't the same thing. My normal is different than yours is. It doesn't and shouldn't minimize what you're going through. I'm still here for you, even if just to listen.
Loved one: No, I know…I just don't know how you deal with feeling like this all the time. 
There's a funny thing that happens when you're diagnosed with an incurable, possibly life threatening, beast of a disease – no matter what ailments affect other people they will inevitably compare their struggles to ours, and more often than not, feel like they don't have a right to complain to us. I know the above conversation or some version of it always comes from a good place. I know my loved ones would never minimize how difficult my everyday is. 
But we're not talking about me. We're talking about you.
I get it, being dealt a bad hand with you or your loved ones health is head spinning. Suddenly there are doctors with different opinions, a foreign language with long terminology, appointments, check ups and tests. There is pain, the emotional sometimes feeling more raw than the physical challenges. It will change your current lifestyle and for some even require permanent changes. Nothing makes you feel more vulnerable than failing health. 
Having dealt with medical practitioners for years has certainly given myself and even my husband a level of expertise we wish we didn't possess. We're not regularly vocal about my health but we also don't hide that I have neuromyelitis optica (NMO). Friends, family, even co-workers and clients will seek us out for advice when they encounter the medical 'system'. They know we've put in our time and are continuous learners and they need to ramp up their knowledge now.
I try to avoid using language like, "well I did this" and never use language like, "it's not as tough as this". I will always ask how their body feels but also what they are thinking about, no matter how irrational it might sound. I am grateful to hear them out because many did and still do for me. I let them know I am always hear to listen because their loved ones will also need time to process a new reality.
I am relatable for all the wrong reasons. Perhaps their health challenge is only temporary like a surgery with a recovery period or it is unfortunately a forever deal. Regardless, their today isn't great and I want to support them like others have for me. 
Photo credit: Evan Kirby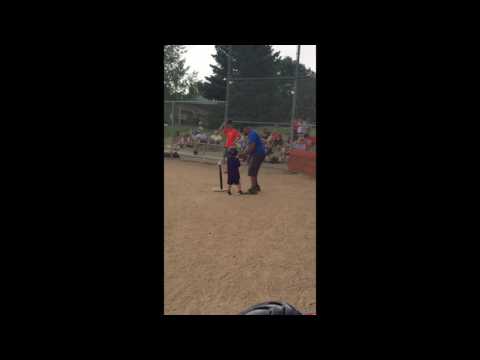 This year marked my 1st year being a sports mom. Allen started Tball in April and finished playing the end of June. We signed him up to play Tball for a few reasons one main reason was so he could play with other kids and second was his best friend from school was also playing Tball. I was nervous about not knowing if he really would enjoy playing and of coarse his attention span. For this being his first year he did a pretty good job. Allen really enjoyed hitting the ball but that's about it. When he was suppose to play in outfield he would just sit there and play in the dirt. It took him a little while to learn the base patterns but for 4 years old he did a pretty good job! He was Happy T ball was over the end of June since it started to get hot and some of the games he played was almost 100 degrees. The most important thing out of this is that Allen had fun and he met new friends. Hope you all enjoy the photos and the video of him playing. The lesson I learned out of being a sports parent that I wanted to be one of the parents that helps with the team and get to know the kids that are playing on the same team as my son. The other lesson was learning to juggle everything on Saturday for games that were right in the middle of the day.
Why?
Why do you do it? How can you work with NMO patients after you lost your son to this horrible disease? Those are questions I hear quite often as I work within the Guthy Jackson Charitable Foundation as well as from those in my personal life. There is a simple yet complicated answer. The simple answer is I do it because I care and because it is important to me. The complicated answer goes much deeper.
For those who don't know our story, I will give you the short version. Our son, Collin, was barely 5 in 2007 when he first lost his vision. It took a few months before he was diagnosed with NMO. His course was very severe with constant flare ups of optic neuritis as well as transverse myelitis. After 4.5 years of suffering and fighting with everything he had within him, Collin passed away on March 29, 2012, at 9.5 years old (we must remember the .5 according to what he always told us). Yes, it is a very sad story if you stop there. Of course, we were and are still heartbroken and we still miss him tremendously. However, those who have followed this story and lived it with us know our story did not stop after his death.
A google search in early 2008, led me to very negative information about NMO. It also led me to an email group where I met some amazing people online. Those people became my family's lifeline and helped me to learn everything I needed to know about NMO. I learned about the correct medications for NMO, the differences between medications for a flare-up versus medications for prevention of future flare-ups, what to look for to recognize a flare and other things NMO patients and families need to learn. The information I learned was great, however, well beyond the information I gleaned was the sense of support and family I received.
In 2009, I was able to attend the first ever NMO Patent Day in Los Angeles, CA. It was overwhelming as well as amazing. It was the first time our NMO community had been able to come together outside of the email support group. I met and interacted with doctors who took an interest in Collin and did their best to help us figure out the right combination of medications for him. I remember leaving LA filled with hope for the first time since Collin had been diagnosed. I vowed then to attend every Patient Day I could.
Throughout the years of Collin's battle, I became close to many of the patients and families, as well as doctors in the NMO community. When Collin passed away, it was devastating to our family, however, it was also devastating to the extended "family" we had met through NMO. It was at then I knew I had to stay in contact with those incredible people, but I also knew it was time to change the role I was in with them. It was time I gave back to them a little of what they had given me and my family. Not long after Collin's death, I had the opportunity to go to work with the Guthy Jackson Charitable Foundation as the Consulting Advocate.
I am honored to be able to serve the NMO community. I love working with the patients and families as they seek information and support. One of the best things about working with the families is empowering them with knowledge and helping them learn to advocate. Advocacy is very important when a rare disease is involved, whether it is advocating for a loved one or for one's self. As we build knowledge, we can build awareness in the world and with awareness, a diagnosis may be quicker. Education is important so patients know when to call their doctors and fight for what is needed. We don't need to have huge plans and goals to advocate, we only need to make our minds up to take any size action. To quote Edward Everett Hale, "I am only one, but I am one. I cannot do everything, but I can do something. And I will not let what I cannot do interfere with what I can do."
It is incredible to make a difference in the lives of others. It amazes me how I am called upon to help educate doctors and medical staff about NMO, which in turn helps future patients. I am just a simple mom who wants to make a difference and wants to continue fighting a battle one little boy started. I, like Victoria Jackson, am just a mom on a mission! I have a heart for my NMO family and I have a passion for helping them. That doesn't make me special, it just makes me willing. I am humbled to continue the work Collin led me to. I am not writing this to toot my own horn, but rather to share a beautiful story with you. Realize, this story is not about me, but about what can happen when a life is changed. If you want to know anything about Collin at all, know he was an incredibly compassionate child and I have no doubt at all he would want me to be helping those who are going through the disease which took his life. I am not stronger or better than anyone reading this and everyone is capable of doing what I do.
Another way Collin encouraged me to make a difference was through The Collin McDaniel Hope Foundation. My family and I started CMHF along with our Co-founder, Johnnie Sue Gilbert, whose son Nathan is living with NMO. It is our mission to make life just a touch easier for families who have children diagnosed with NMO. CMHF helps with medications, travel, wheelchair ramps and other things children diagnosed with NMO may need. While it is a small non-profit, we have been able to help many families in the last 3 years.
While my work is incredibly painful at times, it is also incredibly rewarding. Why do I choose to do it? All because God chose me to be the mom of one little red headed boy who changed my life and touched immeasurable others in his short life. To me, this is Collin's legacy and that is the real answer to the question, "Why?".
When Allen was a baby people were telling me about this Elf doll that comes the 1st of December and watches their children every day till Christmas Eve to see if they are being naughty or nice. Then at night he flies back to the North Pole and gives Santa the report on their child. I just could not believe what I was hearing about all the rules and to what great lengths these moms have gone to make the elf do certain things. I kept thinking in the back of my head. This seems like a lot of work? But every mom told me it so much fun and to see the look on their child's face when they woke up in the morning looking for the elf to see what the elf go into that night.
Forward to this last Christmas I broke down and bought an Elf on shelf. A Couple of weeks before December 1st I started looking on Pinterst, The web, and Blog sites for ideas of what to make this elf do cute things every morning for Allen to see and get interested finding him every morning. Finding a way for him to arrive was the easiest part. Buddy that's his name that Allen gave him arrived in a box with a letter from Santa telling Allen why he was here to visit him and all the rules about not touching him. For the first few weeks Buddy was with us I had it covered what to do with him every day. The one thing I had to do is wait till Allen went to sleep that night and then go set up Buddy. I did not want to do it in the morning since I never know really what time Allen would wake up. Like I said for the first few weeks I was great with ideas for Buddy but after that I would sometimes struggle with ideas for him. As I would look for ideas on the web I couldn't help but think do some Moms have a special container for all the props for their elf? I could not believe some of the stuff they had their elf doing and how much time it would take to set it up. I am sure when Allen gets older I will have to be more creative but this year I think I did a pretty good job for my first year. Allen was very happy with his elf, he was very sad when he left with Santa for the year. I told Allen he should be back next year if he continues to be a good boy. Now the next question is do I get Alana her own elf the girl version? Then I tell myself that's just more work and more ideas I will have to come up with. We will see I have a few more years to decide.
Despite this blog, I'm a very private person. I go about my day without anyone really knowing the pain I'm in. I rarely (closer to never) complain and most of my family and friends forget that I suffer from Neuromyelitis Optica (NMO). But truthfully, some days aren't good. On my "bad days" I tend to go into hiding, I work from home, I sadly cancel on social outings. I'm okay with that now. My husband is the closest who gets it (as best as any non-patient could), watching me in quiet agony sometimes and I'm sure overhearing my private pep talks to push through the day. And now my daughter is also privy to my suffering.

So how much do I tell her?

My daughter is 2 and a half now. As a mother I'll do anything to protect her from the realities of this world. I don't want her to know pain, sadness, disappointment for as long as I can. She's growing up so fast and I'm often disgusted how quickly our world wants our children to mature. Don't get me wrong – I don't want to raise an ignorant, immature brat, but I do want her to enjoy being a princess, blowing bubbles in her milk and laughing at funny faces we make because she (and every child) deserves that.

On my bad days she's seen me struggle a little bit. On those days I know a look she has on her face, that is a mix of understanding I'm not my usual energetic self with a lot of worry that something isn't just right. It's that look that breaks my heart. It makes me worry about that inevitable day, the one when another major attack happens, because it will, and we'll have to figure out a way to explain it. I'm not pessimistic but a realist who thinks we should be as best prepared as we can be.

I don't know if this is the right answer (like all parenting conundrums) but when she's old enough or when I'm forced to find a way to explain it, I will tell her my harsh reality. And that's ok because I want her to understand that sometimes bad things happen to good people and strong people can have weaknesses. What I have resolved so far is this – NMO will be my battle, not hers. I hope for a cure one day but if things become more challenging as we both age I'll want her to go and live her life  and not become my caregiver. I hope I raise her well that she'll want to be but of course, I won't let her. I know I'll potentially get some grief about this; there are a lot of families that believe one should take care of their elderly, and yes, there's a certain sweetness and sense of responsibility I respect about that value. But I hope for my daughter to be braver than me, stronger, smarter, healthier than me and I want her to take that and be impactful to our world, not just impactful to me. 
Here's an uncomfortable topic: family. Let me be brutally honest with you. I don't like to talk about mine. I'm very proud of the one I'm building with my husband (and I get what a blessing that is) but the one I'm derived from is filled with heartache. Recently I've seen a lot of posts from the Neuromyelitis Optica (NMO) community about the lack of support from family and trust me, I get it. So in true transparent fashion, let's talk about it.
I'll start by saying that I will always love my family. It's in my DNA to always acknowledge my roots despite how unfavourable they are. But yes, when NMO happened (and continues to happen) those roots have failed me. When I suffered my first major attack my Mother and sister were in Europe visiting family. My Dad saw the severity of my attack when he visited me in the hospital but somehow he didn't articulate that to them. It took my Mom an entire month before she called me to check in. My brothers didn't bother to visit me in the hospital or even afterwards. I think one of them sent me a "hey, I'm worried about you" email months later. If I had ever needed my family it was then. I was scared, unable to feel the bottom half of my body and couldn't walk. I felt betrayed by all of them and alone.
There's a catch with relationships. When you need support the most it's when you aren't able to ask for it. That's when you truly discover how strong (or in my case, flawed) said relationship is.
For me, I went through the full range of emotions. I was angry, I made excuses for them, I grew patient then impatient. It's been 4 years since that attack. I've had more since then and also great successes. In both cases I've realized that my family will always continue to fail me and yes, that makes me sad. A little part of me still waits for my family to finally figure it out but in the meantime what's best for my mental (and ultimately physical) health is distance from them. It wasn't a decision I made lightly and it isn't the right one for everyone struggling with family difficulties but do know it's an option.
What I've learned is that you can't change people no matter how desperate you are to try.
So, my advice? Focus on the relationships that do make a difference. In those first dark days of NMO I had 42 friends and other family visit me in the hospital. My then future sister in law helped me get dressed every morning on her way to work. My then future mother in law brought me a care package of necessities. My cousins and then future husband had my pug waiting just out the hospital doors for a cuddle. People I thought were just acquaintances stopped in to keep me company and offer their support. These are the relationships I grow. These are the relationships that I now call family.
Recently we spent quality family time at Niagara Falls (the Canadian side in Ontario). My Dad just turned 65 years old and it was also my Mom's birthday so we thought to do something special.
Dad won't admit it but he found turning 65 difficult. Although it has been years of failing health (he was a lifelong smoker who was finally able to quit last year), being labelled a "senior" forces one to really evaluate what one can do better.
Living with Neuromyelitis Optica (NMO) has forced me to make that evaluation sooner. I've read countless dietary books, blogs and medical articles and have tried various meal plans. I push myself that extra 5 minutes on the elliptical machine or just another 25 crunches. If I had a choice, I'd live in denial of the inevitable aging and go eat a juicy burger.
But I want more moments like this:
And this:
(That's my Mom, Ellen, and my sister, Debra, with Sophie and I.)
The majestic beauty of the Falls reminds me to take a moment and appreciate that life is bigger than me and definitely bigger than this disease.